Multiple Murders in Crest Road
Our time in Crest Road, which is situated in a peaceful, quiet and suburban part of town, has been relatively incident free.
There was however one dramatic episode, which took place on Saturday 17th December 1983.
My wife, Vin, had created Christmas-theme displays at her gift shop. My parents wanted to see them.
I drove them from Harrow and took them to the store. After admiring Vin's handiwork, I dropped my parents off at Crest Road and then joined Vin again so I could help with closing. When we returned to Crest Road, we were shocked to find a police cordon at the entrance of the road. There was a big commotion, with armed police and the fire brigade on the scene. We were escorted to our house and told to stay inside.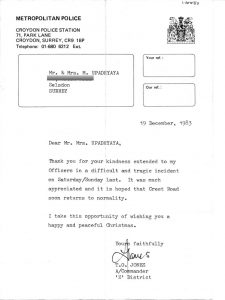 "There was a shooting," explained the police officer.
"It's turned into a hostage situation, a few houses up."
This was a terrifically exciting experience for our  twins — especially with the police's incident van parked right there on our drive way. The rest of us were tense with anxiety. So, after dinner, with permission from armed officers, I drove my parents back to Harrow.
Throughout the night there was a constant flow of armed officers through the house to use the facilities and Vin distributing hot mugs of tea and soup.
Early next morning, the police found four bodies at the crime scene.
You may read the full account of the seige from the book
Stop! Armed Police!: Inside the Met's Firearms Unit
here
(by Mahesh and Vin Upadhyaya)