Multiple Murders in Crest Road – 1983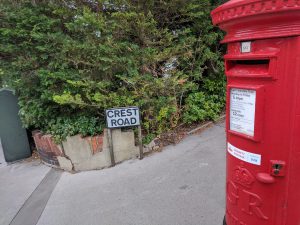 Crest Road, which is situated in a peaceful, quiet and suburban part of town, has been relatively incident free.  Read more:
Opening of Croham Valley Road in the 1930s.

This picture was taken at the opening of the road, presumably where Croham Road turns into Croham Valley road by the entrance to the golf club sometime in the 1930s.
The nearest houses, as well as a lot of Selsdon, were built by Costain who arranged the opening.  The lady in the centre in the fur coat is Yvonne Arnaud.
Yvonne was a French born singer and actress who  seems to be most famous for playing Marguerite in "A cuckoo in the Nest" by Ben Travers at the Aldwich Theatre in 1925.
Yvonne does not appear to have had any connection to our area so we presume she was paid to bring some showbiz to Croham Valley.