to the website of Croham Valley Residents' Association.
The Association was set up in the early 1970s for the benefit of the local residents in the Croham area. It is a small organisation run by the local residents to provide information and support as needed. We produce a quarterly newsletter to all members and look forward to the continued support of all the local residents.
Work on developing the website is constantly in progress. If you have any suggestions on what you would like to see please do Contact Us.
Join our group, Croham Valley Residents Association, on Nextdoor.
News
Planning Application No. 21/05664/OUT – Land the Rear of 35 & 37 Croham Valley Road, South Croydon, CR2 7JF Fronting on to Ballards Rise; Erection of 2 Two Storey Buildings with Accommodation in the Roof Spaces Comprising of a Total of 4 Semi-Detached Houses (3 four bedroom & 1 three bedroom) with 6 Parking Spaces.
Deadline for the Council to receive objections to this application is the 22nd January 2022.
Please read Planning Details by David Rutherford
South Croydon Traffic & Roads Survey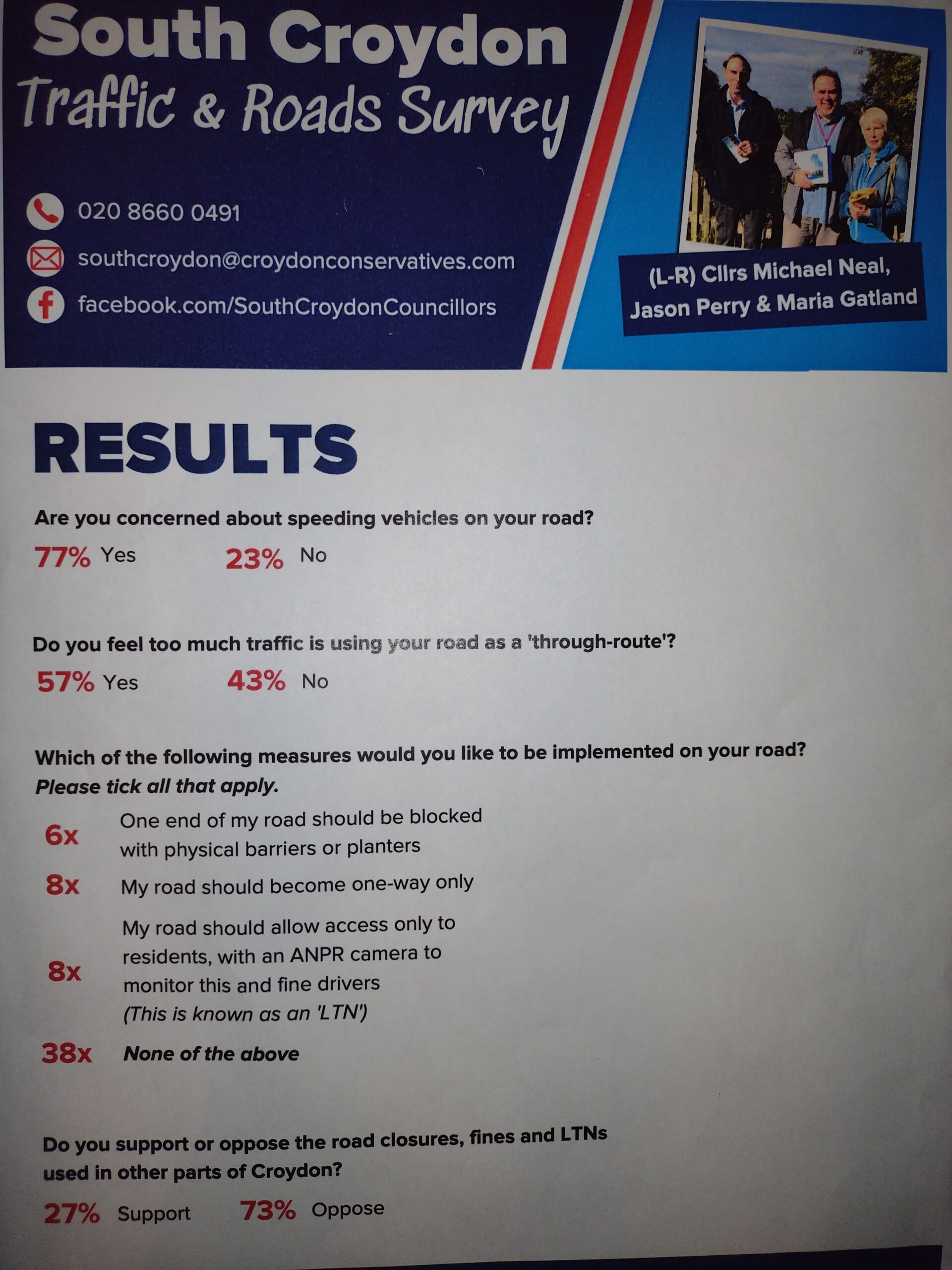 ---
Croydon referendum: voters choose directly-elected mayor model
A message from Gerry Meredith-Smith, Chair, DEMOC
Dear Croham Valley Residents Association,
Today is a historic day for our borough – because today Croydon voted for change. Next May, we WILL have a democratically elected mayor! Read More
Local Government Act 1972 S123 Heathfield House, Coombe Lane, Croydon, CR0 5RH
In accordance with the above Act, the London Borough of Croydon hereby gives notice that Read More
Newsletter
CVRA newsletter is published in Spring, Summer,  Autumn and Winter.  It is distributed to all members of the Association.
Membership
We welcome membership to fund our activities. Membership is available to anyone within our area. Please support us by sending £4 by Bank Giro Credit or Standing order to:
Croham Valley Residents Association
Sort Code: 09-01-55
Account No: 63005602
Please do not forget to give your house number and road as the reference. Our membership year starts in the Spring.
Representatives
The committee is chaired by Mr Jeremy Gill and he is supported by the committee.
Jeremy and his family have lived in the area since 1996.  His children have attended local schools and the family support local businesses and tradespeople whenever possible.
If you are interested in joining us please contact Jeremy.
The position of Vice -chair and Honorary Secretary are both VACANT.
Other members of the Committee.
Council
The Southern part of our area – from the top of Croham Valley Road to the Bottom of Ballards Way – is part of the Selsdon and Addington Village Ward.  The ward returns two councillors every four years. The Councillors are;
The Northern park of our area – from Spencer Road to the beginning of Ballards Way -is in the  South Croydon Ward. The ward returns three councillors every four years.  The Councillors  are;
Member of Parliament
Member of Parliament for Croydon South: Chris Philp (Conservative)
website: https://www.chrisphilp.com/
Contact details:
House of Commons, London, SW1A 0AA
Phone: 020 7219 8026
Email: chris.philp.mp@parliament.uk
Area
Our area is divided in to 3 zones, as shown here
We cover the area shown below; of the Croham Valley from Spencer Road to Farley Road and the Ballards Farm Estate through to the top of Ballards Way.
CVRA membership area ( https://www.google.co.uk/maps)
Useful Information
Police, council and NHS  details can be found here.